Faculty of Yoga and Naturopathy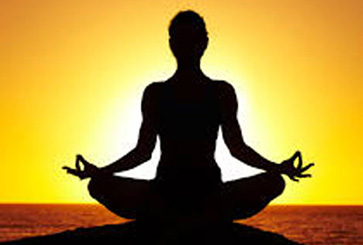 Yoga is not about exercise but to discover the sense of oneness with ourselves, the world and Nature. It is an art and science for healthy living. The word "Yoga" is derived from the Sanskrit root 'yuj' meaning "to join", "to yoke" or "to unite". Therefore the aim of yoga is to unite the individual consciousness with the supreme consciousness. Yoga is a science and art of living; also it is a body of techniques that lead us to consciously connect with ourselves and with life, the experience of yoga.
The chief approach of yoga is that it envisages the fuller exploitation of one's entire inner resources. As such, yogic discipline is an inward journey not dependent on any kind of outer aid. Its external techniques (only-so-called) are fully concerned with the body and partly with the mind, while its internal techniques are concerned partly with the mind and fully with the spirit. These external and internal techniques together constitute the scientific system of yoga, which is designed to bring about a complete and harmonious development of the three-fold aspects of human being- matter, mind and spirit. Yoga does not recognize the body, mind and spirit as a separate entity but as a trinity that covers all areas of human existence under a single fold. It approaches each unrealized area of human nature and expands human consciousness beyond the gross plane of experience. It makes one fully aware and inwardly conscious about one's whole being through experiences on the spiritual plane.
Yoga should not be misunderstood only as a physical discipline or merely as a mental discipline, or even as a purely spiritual discipline. It is a unified system of all three. Beginning with physical prowess at a gross level, a student of yoga progresses toward the subtler phases of mental and spiritual development. Because of such a unified approach, yoga is frequently described as a process of harmonizing the body, mind and spirit.
Establishment of Faculty of Yoga and Naturopathy, Motherhood University has the motto to unfold the real nature of self by bringing out all the best from within and to lead a finite human being towards the infinity. Yogic discipline enables one to differentiate between the ego and the true self through proper discrimination and right knowledge. Such discrimination and
Faculty of Yoga and Naturopathy
knowledge spontaneously dawn upon a person through the practice of yoga. They are born out of actual spiritual experiences. Objective of Course
To introduce yoga therapy with its principles, factors, impacts; and to prescribe yoga therapy for people with various lifestyle disorders.
To make the people aware of the therapeutic and preventive value of Yoga.
To bring peace and harmony in the society at large by introducing the Yogic way of life.
To create therapists of high caliber to make the society free from stress and lifestyle related diseases.
Employment areas
Educational Institutes
Yoga Centers
Spa and health clubs
Resorts
Housing Societies
Hotels and Restaurants
Positions
Yoga Teacher
Yoga Trainer / Instructor
Yoga Therapist
Yoga and Naturopathy Research Officer
Assistant Ayurvedic Doctor
Therapist and Naturopath Agent