MESSAGE OF THE CHAIRPERSON: BOARD OF GOVERNORS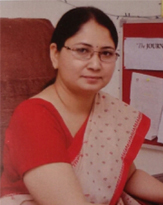 It is heartening to note that the first edition of the "Motherhood International Journal of Multidisciplinary Research & Development" has been launched by Motherhood University, Roorkee for the international community of scholars. The willingness of joining the platform by the eminent academicians across nation is a positive sign. This journal is aimed at providing valuable insights to the scholars and academicians to search new paradigms in various fields of education.

I appreciate the efforts of all the members of the editorial staff and the contributors. Their dedication has produced quality research work to set a pace for the future research effort in the field of scholarly research in various streams. I sincerely believe that it would be capable of meeting the felt needs of a knowledge based society to attain an equilibrium between the dimensions of newly emerging disciplines and their proper utilization in social setups to keep the societies vibrant healthy and strong.