Our Founder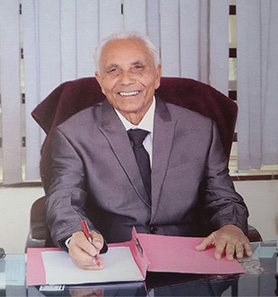 To ignite the minds, a renowned educationist and social worker, Shri K.D.Sharma envisioned a society to cater the needs of the youth of the area and empower all sections of the community of our nation through education. This dream of him was formalized by Shri Dhamendra Bhardwaj, Chairman, MIMT Society and Ms Manika Sharma, Secretary, MIMT Society with the spirit of social service to the community along with a team of eminent professionals, technocrats, educationists, and social workers by establishing MIMT Society in 2004.The founder Shri K.D.Sharma envisioned the beginning of a new era of education by focusing on the establishment of a unique group of academic institutions that could transform Individuals into responsible global citizens.

The Motherhood University, Roorkee was established in 2015 with a distinctive mission, a mission to grow, transform and educate. When the University was established, quality education was a distant dream among private institutions in north India, specifically Uttarakhand. Under the leadership of Shri K.D.Sharma, the Society has scaled its infrastructure, broadened its horizons, while maintaining a culture of excellence.

Being a prominent philanthropist with a profound sense of responsibility, Shri K.D. Sharma has immensely contributed to the society through various initiatives including community development programmes, healthcare, charity and employment generation. With education at an inflection point, the Motherhood University will constantly strives to equip future leaders with the competence and character to address emerging global and social challenges.
"Strong principles and value based education have helped us in imparting value based education which is being reflected in our students who are serving in various sectors at prominent positions, reaching people from all walks of life.I believe that one can only grow by sharing and giving. I will continue to ensure that we excel even further in future and will strive to make every single Motherhood University Graduate a world class professional".