S. No. Research Paper
1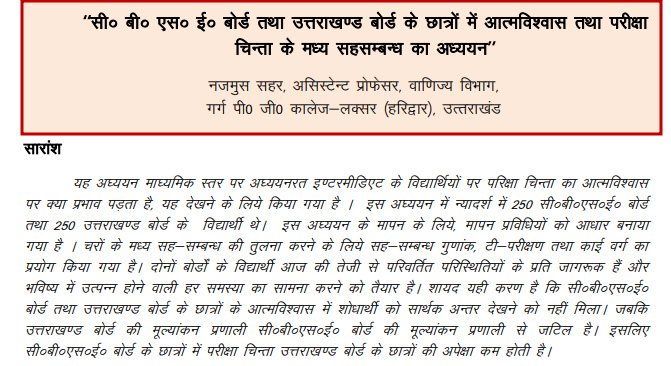 S. No. Research Paper
2.


S. No. Research Paper
3. Life Skill Education

Dr. Garima Sharma
page. no. 01 to 06
Abstract
Adolescence, a vital stage of growth and development, marks the period of transition from childhood to adulthood. It is characterized by rapid physiological changes and psychosocial maturation.
Keywords: Adolescence, growth & development.
S. No. Research Paper
4.Role of Technology in Education

Dr. S. B. Sharma
page. no. 01 to 12
Abstract
These days technology plays an important role in Education. With the help of Technology complex things have been made easy and simple to understand rationally and logically. Various medias like internet, audio-video, images, CDs,  


S. No. Research Paper
5.Physiotherapy Rehabilitation

Swati Kaushik
Abstract
Sciatica Refers to pain that radiates along the sciatic nerve and is typically felt in the buttocks, down the back of the leg, and possibly to the foot. It is caused by some common conditions herniated disc, degenerative disc disease and lumbar spinal stenosis.